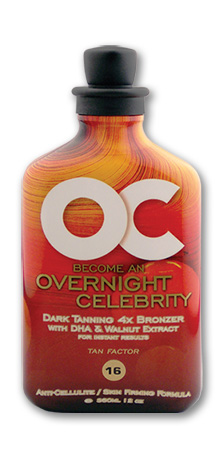 oc overnight celebrity
MAXIMUM UV ABSORBING 4X BRONZER
Dark Tanning 4x Bronzer
4x Bronzer - You'll get immediate dark tanning results with the DHA, Walnut Extract, Erythrulose, and Control Release Agents.
Level 16 Accelerators - Three potent Tyrosine derivatives enhance your ability to tan while maximizing UV absorption.
Anti-Cellulite/Skin Firming - The triple action anti-agingand firming blend tightens your skin while reducing the appearance of fine lines and wrinkles.
Dimethicone - This amazing skin smoothing ingredient leaves you silky-smooth and velvety soft.
Product Actions: Tan Accelerator, Bronzer, Skin Firming
Size: 12 US fl. oz. (360mL) bottles, .7 US fl oz. (20mL) packets
Fragrance: Creme Brulee