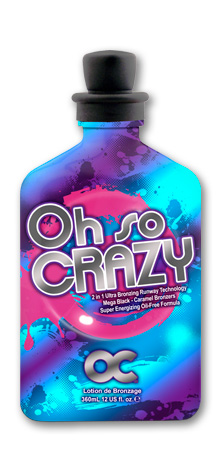 oc oh so crazy
2 IN 1 BRONZING RUNWAY TECHNOLOGY
Mega Black - Carmel Bronzers
Ooh So Crazy™ Need color quick? Ooh So Crazy will get you Ooh So Dark! This 2 in 1 lotion is formulated for use with or without the tanning bed. Use at home as an instant self tanner for a big night out, or use it in the tanning bed for insane color like never before. Skin energizers, silicone and Matrixyl work together to target and fill in the appearance of fine lines and wrinkles, tighten and tone the skin and lock in moisture and color for Ooh So Crazy long lasting, dark results.
2 in 1 Formula for use with or without UV light.
Superior levels of DHA, Natural and Cosmetic bronzers.
Energizing and Skin Tightening.
Anti- Aging and Firming.
Silicone Formula.
Product Actions: Tan Enhancer, DHA Bronzer, Energizing and Skin Tightening
Size: 12 US fl. oz. (360mL) bottles, .7 US fl oz. (20mL) packets
Fragrance: Tropical Vacation Fragrance