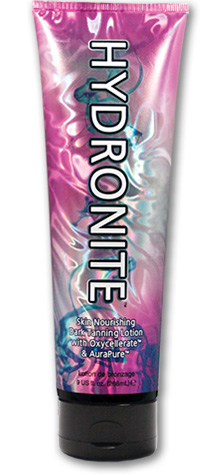 oc hydronite
COOL ACTION TAN ACCELERATOR
Skin Nourishing Dark Tanning Lotion with Oxycellerate™ & AuraPure™
Hydronite is fully loaded with cool action accelerators and melaleuca super hydration, allowing your skin the ultimate hydration while cooling you to the core.
Oxycellerate™ - Our unique blend of 3 Tyrosine Accelerators, Brazilian Helio Carrot Oil, Cool Sensation Melaleuca and Sweet Violet Botanicals leave your skin fresh and receptive to UV Light.
AuraPure™ - an innovative anti-bacterial blend to stop after tan odor.
Oplex™ - Rejuvenation technology enables the skin to absorb the highest levels of oxygen.
Product Actions: Tan Accelerator, Skin Firming, Cooling, Exfoliator
Size: 9 US fl. oz. (266mL) tubes, .7 US fl oz. (20mL) packets
Fragrance: Honeydew Melon